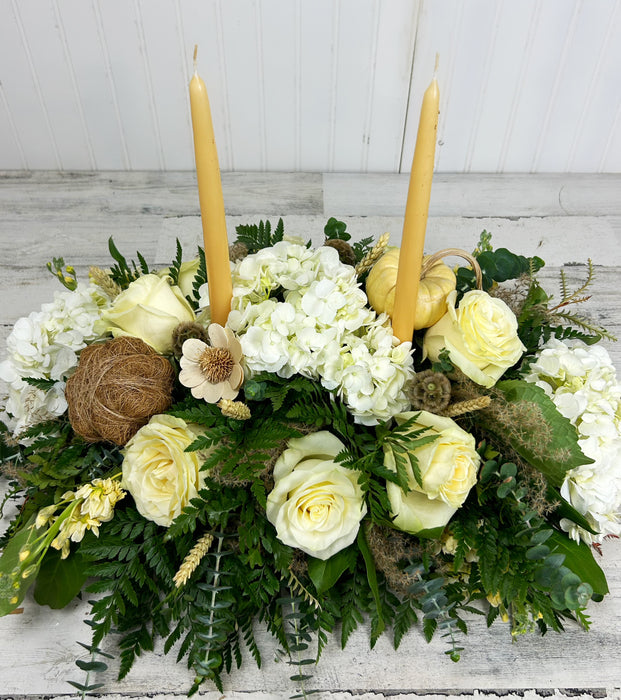 Creamy Candlescape Harvest Centerpiece
Immerse your space in the warmth of autumn with our "Creamy Candlescape Harvest" centerpiece. This exquisite boho arrangement combines the soft allure of white and cream hues, creating a serene ambiance that whispers of rustic elegance.
At the heart of this centerpiece, delicate roses bloom alongside voluminous hydrangeas, their ivory petals intertwining with the ethereal beauty of ornamental grasses. Towering stalks of wheat add a touch of natural grace, evoking the essence of a bountiful harvest.
Gently nestled amidst this botanical symphony are pristine white and coco pumpkins, lending a subtle contrast and embracing the spirit of the fall season. The "Creamy Candlescape Harvest" is adorned with the earthy charm of stock flowers, imparting a sweet fragrance that lingers in the air.
To elevate the enchantment, colonial ivory candles stand tall, casting a soft, flickering glow that dances with the shadows of the season. The candlescape serves as a beacon of warmth, inviting you to revel in the cozy embrace of autumn evenings.
This bohemian masterpiece captures the essence of a harvest moonlit night, making "Creamy Candlescape Harvest" the perfect centerpiece to grace your gatherings, weddings, or any space where you wish to infuse a touch of timeless elegance and seasonal enchantment.