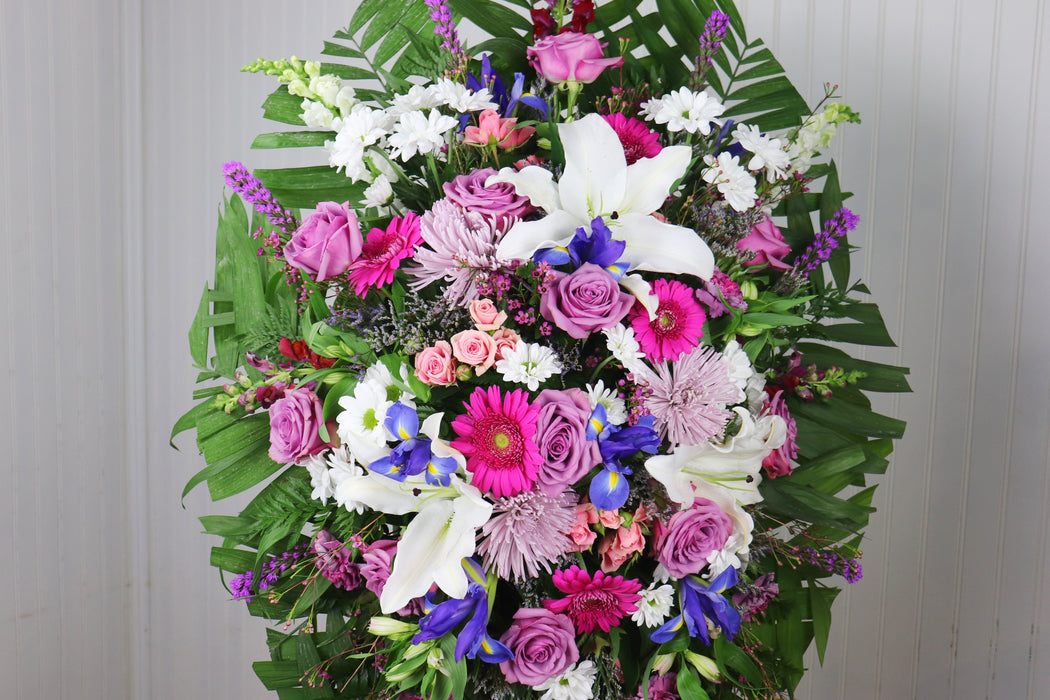 Treasured Iris Spray: A Symphony of Exquisite Blooms
Indulge in the beauty of nature with our remarkable floral arrangement, "
Treasured Iris Spray." This masterpiece is a harmonious blend of some of the most captivating flowers, expertly arranged to create a captivating visual and sensory experience.
🌸
Iris and Lilies:
The arrangement opens with the regal elegance of iris blooms and the delicate charm of lilies, setting the stage for a composition that exudes grace and sophistication.
🌼
Gerbera and Liatris:
Vibrant gerbera daisies, in an array of lively colors, dance alongside the statuesque liatris, creating a vivid tapestry of hues and heights.
🌷
Snapdragon and Spider Mum:
Snapdragons contribute a playful touch, while spider mums infuse an air of exotic allure with their unique appearance.
🌻
Daisy and Roses:
Sunny daisies and velvety roses provide a delightful contrast, infusing the arrangement with an aura of joy and romance.
🌹
Spray Roses:
Delicate spray roses, elegantly nestled throughout the arrangement, offer intricate details and a sense of intimacy.
"Treasured Iris Spray" combines various textures and shades, resulting in a visual masterpiece that not only delights the eyes but also evokes a sense of admiration and wonder. Whether as a gift or a centerpiece for your special moments, this arrangement is a testament to the artistry of nature's blooms.