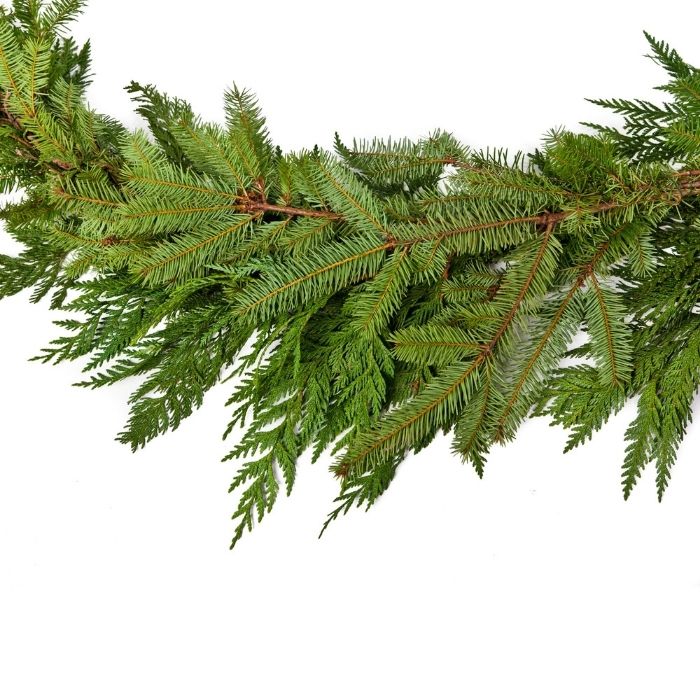 🌲✨ Embrace Timeless Elegance in Your Holiday Decor 🌲✨ 

Elevate your holiday ambiance with our Mixed Evergreen Garland. Crafted from a harmonious blend of evergreen varieties, this garland adds a touch of natural beauty and timeless elegance to your festive decor.

Key Features:

🌿 Variety of Greens: Our Mixed Evergreen Garland features a thoughtful combination of different evergreen varieties, including pine, fir, and cedar. This diverse blend creates a lush and visually appealing arrangement.

🎄 Versatile Decor: Perfect for adorning your mantel, staircase, entryway, or tabletop, this garland infuses your space with the classic charm of the season.

🌟 Handcrafted Quality: Each garland is carefully handcrafted by skilled artisans, ensuring that every detail is well-considered and that the arrangement maintains its freshness and vibrancy.

🎁 Festive Accents: A subtle addition of seasonal accents, such as pinecones and red berries, enhances the garland's holiday charm, making it a versatile and elegant choice for any setting.

🏡 Indulge Your Senses: Enjoy the natural fragrance of evergreens as they fill your home with the scents of the season.

🪙 Length Options: Choose from various lengths to perfectly fit your decorating needs.

This Mixed Evergreen Garland celebrates the enduring beauty of evergreen foliage and the traditions of the holiday season. It's a striking addition to your holiday decor, whether you're decking the halls or sharing the festive spirit with loved ones.

Elevate your holiday decor with the timeless elegance of mixed evergreens. Experience the beauty of the season with Mixed Evergreen Garland from Decker's Nursery.