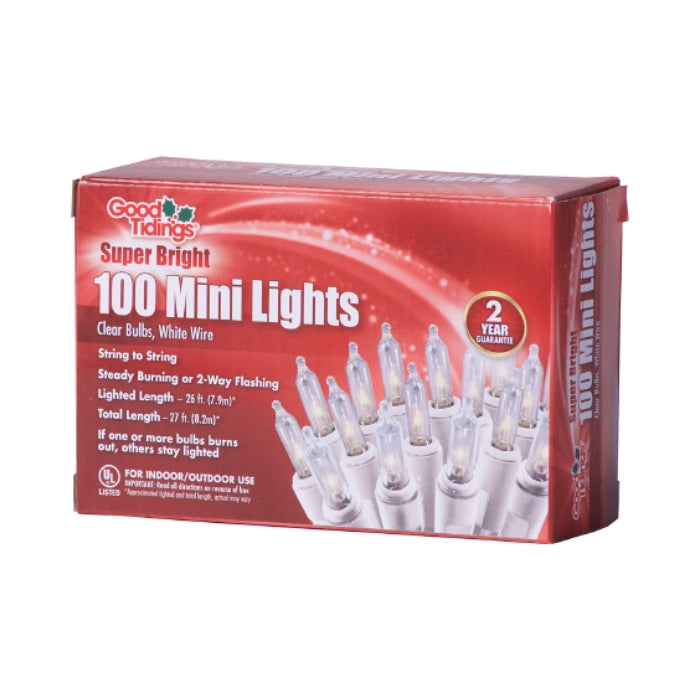 Good Tidings Super Bright - 100 Clear Lights on White Wire (27' Long)
✨🎄 Illuminate Your Holidays with Brilliant Clarity ✨🎄

Light up your holiday season with our Good Tidings Super Bright Mini Lights on a 27' White Cord. With 100 clear mini lights, these versatile and luminous lights add a touch of brilliance to your holiday decor.

Key Features:

💡 Clear Elegance: These mini lights offer crystal-clear clarity, casting a bright and welcoming glow that enhances the festive atmosphere.

📏 Ample Length: The generous 27-foot white cord provides you with the flexibility to decorate your space with ease, whether it's your Christmas tree, mantel, or outdoor landscape.

🪡 Sleek White Cord: The white cord seamlessly blends with your decor, offering a clean and unobtrusive backdrop for your holiday lighting arrangements.

🔌 Safe and Convenient: These lights are energy-efficient, cool to the touch, and designed for easy installation. They're also connectable, allowing you to extend your lighting display without hassle.

🏡 Versatile Decor: Whether you're illuminating your indoor or outdoor space, these lights are a brilliant addition to a wide range of holiday decorations.

🌟 Long-Lasting Quality: Crafted for the demands of the holiday season, our Good Tidings Super Bright Mini Lights are built to shine brightly and reliably throughout your celebrations.

These mini lights are more than just an accessory; they are the radiant threads that weave holiday magic into your home.

Elevate your holiday decor with the Good Tidings Super Bright Mini Lights from Decker's Nursery. Illuminate your festivities with brilliant clarity and share the joy of the season.