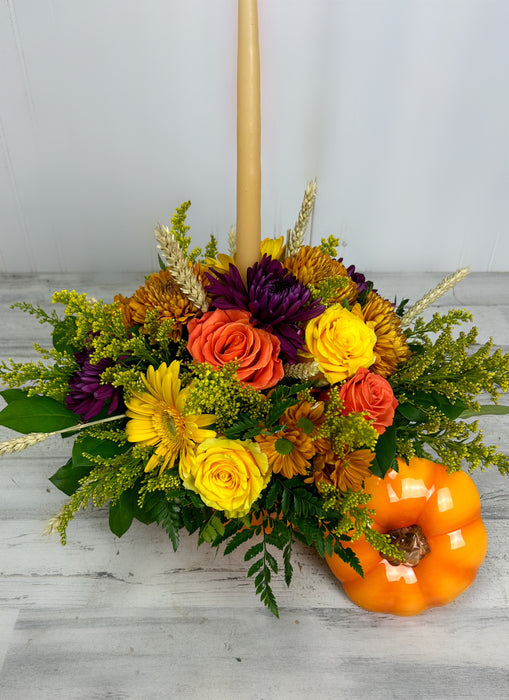 Harvest Glow Ceramic Pumpkin Centerpiece
Elevate your autumn decor with our "Harvest Glow" ceramic glazed pumpkin floral centerpiece, a statement piece that encapsulates the spirit of fall in every detail. This large pumpkin, resplendent in its ceramic glory, becomes a canvas for a symphony of colors and textures that embody the warmth and richness of the season.
At the heart of this centerpiece are the vibrant orange roses, a blaze of autumnal glory that captures the essence of a harvest sunrise. Surrounding them, the sunny faces of yellow gerbera and the regal allure of purple cremone mum create a lively dance of hues, echoing the diverse palette of fall foliage.
Interspersed among the blooms are the cheerful orange daisies, their petals reminiscent of the sun setting over a crisp autumn evening. A touch of rustic charm is added with the inclusion of yellow solidago and ornamental wheat, infusing the arrangement with the earthy textures of the harvest.
As the centerpiece crowns its glory, a flickering candle nestled within the ceramic pumpkin casts a warm, inviting glow, creating a captivating play of light and shadow. The "Harvest Glow" centerpiece is not just a floral arrangement; it's a beacon of autumnal ambiance, a celebration of nature's beauty and the cozy moments of the season.
Place this masterpiece at the heart of your gatherings, weddings, or any space yearning for a touch of fall enchantment. Let the "Harvest Glow" Ceramic Pumpkin Centerpiece be a testament to the bountiful beauty that autumn brings, capturing the warmth and splendor of the harvest season.