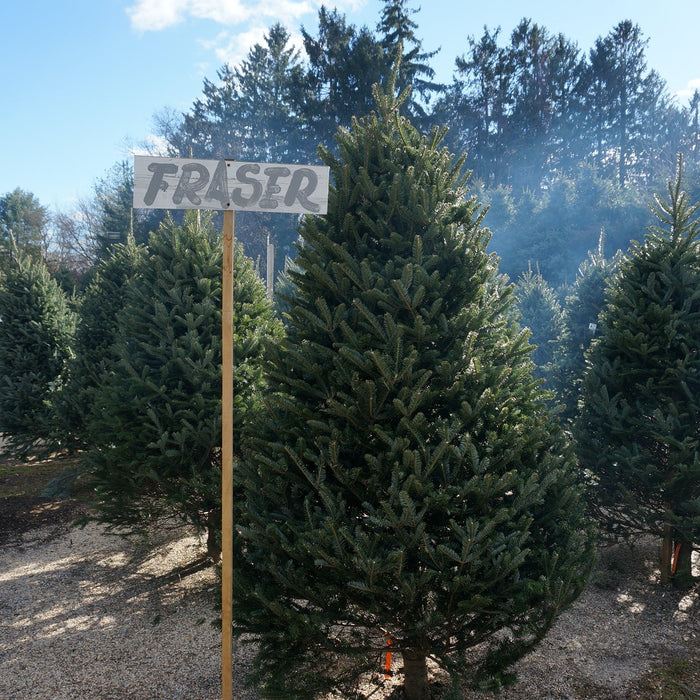 Fraser Fir Christmas Tree
Pre-Booked Fraser Fir Christmas trees will be available for viewing starting November 21, 2023.
The Fraser Fir remains one of the most desired Christmas tree. Preferable for its sturdy branching that supports more ornaments and lights. The Fraser fir is also a beautiful evergreen with its attractive 1-inch needles and silvery-green foliage, is soft to the touch.
The Fraser Firs at Decker's Nursery consistently display a symmetrical conical form. Each tree is as beautiful as the next one.
All of our Christmas Trees are lovingly grown in Quebec,  Canada. Fraser Firs are native to Canada where they perform optimally. The reason our trees remain fresh beyond the holiday season, is due to the late harvest that occurs just prior to shipping. There is nothing worse than a Christmas tree dropping needles on Christmas day. This is why hundreds of families return to Decker's Nursery each year.
Larger trees are available at Decker's Nursery. We feel its in the best interest for customers who require a larger tree, to select them in person.
Helpful Resources
If you haven't already, be sure to check out our Garden Learning Center as we have a number of very helpful resources that may come in handy by providing you information on how to pick out, and maintain, your Christmas Tree. Here's a list of helpful articles and videos that you might like:
Christmas Trees 101 -A very thorough video that covers all of the basics on picking out your tree, setting it up in your home and how to maintain it to get the longest lasting Christmas Tree
How To Pick The Perfect Christmas Tree